Class changes and additions
Class 16 ASB Three Gaited Show Pleasure Adult Add ages 18 - 38
Class 18.1 ASB Three Gaited Park, Novice Horse
Class 19.1 ASB Park Horse Limit Horse
Class 26.1 Amateur Gentlemen 3 Gaited
Class 34.1 ASB Three Gaited Show Pleasure Adult 39 Years & Over
Class 54.1 UPHA Park Pleasure Classic
Class 79.1 ASB UPHA Fine Harness
Class 93.1 ASB Five Gaited Amateur Ladies
Class 94.1 ASB Three Gaited Park Horse, Limit Rider
Class 119.1 ASB Park Horse Limit Championship
New Announcements
Courtesy of Daborah/Saddle Horse Report the trainer bringing and showing the largest number of horses during the show will receive a full page color ad in Saddle Horse Report.

National Horseman is awarding every championship winner a $100 advertising certificate to help us celebrate our 75th Anniversary.

Courtesy of a long-time supporter of River Ridge, the winning trainers of the Three Gaited and Five Gaited Open Championships will each receive a monetary award of $500.00
To Help Celebrate The 75th Anniversary Of River Ridge Horse Show, The Bluegrass Horseman Is Sponsoring A Tack Room Contest.
Contest Will Be Held Thursday Afternoon, Immediately Following The Afternoon Show Session.
No Entry From The Stables Will Be Required
Tacks Rooms Will Judged On Overall Look, Cleanliness, Efficiency, And Creature Comfort.
The Winner Will Receive A Full Page Color Ad In " The Bluegrass Horseman" Courtesy Of Keith Cupp
Friday evening from 6:30 - 10:00 you will find Jason Hay Caricature Entertainment in the vendor area of River Ridge (Gilligan Complex). They will be offering FREE Face painting and Caricature's.
Jason is a feature artist at many of the amusement parks in the US.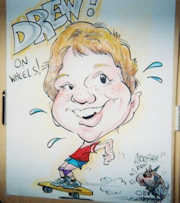 River Ridge Charity Horse Show is pleased to announce that during our 2019 event to be held at the Ohio State Fairgrounds from Wednesday, April 24 through Saturday April 27th, we will be again live streamed (free to the general public) through Seehorse video
---
New this year will be live color commentary, historical tidbits and interviews conducted by Brendan Heintz of the popular Facebook based "Around the Arena Horse Show Nostalgia" and featured both on our livestream and on Twitter.
Courtyard by Marriott Columbus Airport


$110 plus tax per day
SPECIAL RATE ENDS: Tuesday, Apr 9, 2019

2019 Stall mats at RR are $105.00

This price includes putting down the shavings you purchase from Kuhlwein.

Shavings will be $8.50 and are the larger bags, not the small ones seen at some other shows.
River Ridge is a qualifying competition for this year's ASHA High Point Awards and the Kentucky State Fair's World's Championship Horse Show. More information can be found at
www.saddlebred.com
.
River Ridge is an Approved Show for the Following Associations:
The Show for More FOOD & FUN
The Fetzer Face will be helping us celebrate our 75th year.
Contact Kathy Boggs to schedule appointments.
Vendors Considering the Gilligan Complex.

Vendor space will be $75.00 (plus electricity & table rental) for those who contract & pay for their vendor space prior to April 1st. All contracts received after that date will be $100.00

Only 10 spaces are available in Gilligan Complex.

Contact Barbara Dunham via e-mail. shosec1@aol.com

The Vendor Application form is now on the VENDOR page.
PREMIER SUPPLIER SPONSORS
Sponsorship Form
2019 Sponsors
TODD GRAHAM

Kathy Boggs

George & Jane Burgy

Bess Cable

Cape Cod Equestrian Center

Cedarwood Farm

Justin Cowley/Cowley Insurance Agency

Bill & Julie Edgar

Fiesta Farm Family

Amy Haller

Joan Hammond

Jack & Jackie Hawkes

Horizon Saddlebreds

Jeff Keefer & Karen Stock Families in Memory of Verna Keefer

Lavery's Richlon Farm

Lookaway Farm

Dayne Dunham Maple

Meadow Dream Farm

Memory Lane Farm

Lost Fortune Stables

John Nelson Stables

Dr. Louis Novak

Erin Obenauf

Leslie Hepler Reynolds

Seldom Seen Farm

Mark Shohayda

Lynn and Hank Snowden

Sunrise Stables

Joan Todd and Dr. Melvin Gale

50/50 Drawing
All money goes to Camp Hamwi - Camp for youth with Diabetes.
Tickets may be obtained from Skip Shenker or in the horse show office.
A portion of the show proceeds benefit
Central Ohio Diabetes Association
Donate to Camp Hamwi at the Central Ohio Diabetes Association

By phone: call 614-884-4400 during business hours Mon-Fri 8:30am to 5pm.
Mail: 1100 Dennison Ave., Columbus, OH 43201
Donate online by clicking on logo above.
You may designate your donation toward Camp Hamwi or
"referred by River Ridge Charity Horse Show"
Food Sponsors
Daily Deluxe Breakfast
Wednesday - Saturday, Sponsored by: Seldom Seen Farm
Monday & Tuesday: Coffee & Donuts
Tuesday Groom's Lunch
Honey Baked Ham Sandwiches donated by: Indian Creek Farm
Wednesday Evening Season Opener
Pasta Party
following the Evening Show:
High Hopes Farm
Thursday Dinner
Friday Progressive Dinner
Saturday Evening Pasta
After final class on Saturday evening, join Kuhlwein Services
as they say "Thanks For The Memories" to all exhibitors
by hosting Pizza in the office area.
We have been serving RR Exhibitors for many years and hope to continue. Come Join us before your journey home.
We hope to see you again in 2019.
Jim & Chad Kuhlwein
---
Silent Auction
to benefit Camp Hamwi for youth with diabetes
Looking for more auction items!
Email Barbara with items: shosec1@aol.com
Need a layover coming or going from the west?
Clean, Sanitized Stalls ~~~
7372 Plattsburg Rd,
So. Charleston, OH 45368
Contact Shirley Mann
937-926-3355
Send us your thoughts, suggestions, and ideas! We want to hear from you.
Barbara Dunham, Show Manager
Email: shosec1@aol.com or Call: 740-352-8562